Coated Enrobed Nuts Chocolate Gifts
Introducing Chocolics Chocolates' Coated Enrobed Nuts Chocolate Gifts: The Epitome of Premium Gifting
Indulge in the luxurious world of Chocolics Chocolates, where we present our exclusive range of Coated Enrobed Nuts Chocolate Gifts. Handcrafted with meticulous care and passion, our chocolates are the perfect embodiment of elegance and decadence, making them an exceptional choice for any occasion.
Explore the richness of our assortment, featuring a captivating variety of flavors that will tantalize your taste buds. Each chocolate is meticulously enrobed with premium ingredients, ensuring a harmonious fusion of textures and tastes. Delve into our irresistible selection, which includes:
Cranberry Coated Chocolates: Experience the delightful combination of tangy cranberries and velvety smooth chocolate, creating a harmonious balance between sweet and tart.
Hazelnut Chocolates: Discover the timeless appeal of roasted hazelnuts embraced by luscious chocolate, delivering a truly indulgent experience with every bite.
Almond Chocolates: Elevate your senses with the irresistible crunch of roasted almonds enveloped in our finest chocolate, creating a harmonious symphony of flavors.
Cashewnut Covered Chocolates: Experience the buttery richness of cashew nuts coated in our premium chocolate, providing a delightful blend of creaminess and nutty goodness.
Raisins Covered Chocolate: Immerse yourself in the contrasting textures of succulent raisins enrobed in velvety smooth chocolate, offering a sweet and chewy delight.
Roasted Coffee Bean Covered Chocolates: Embark on a journey of flavors as the boldness of roasted coffee beans mingles with the luxuriousness of our chocolate, creating an exquisite fusion.
Butterscotch Covered Chocolates: Delight in the enchanting harmony of crunchy butterscotch and delectable chocolate, offering a sublime combination of sweetness and caramelized indulgence.
Black Currant Covered Chocolates: Succumb to the allure of tangy black currants embraced by our luxurious chocolate, delivering an invigorating burst of flavors.
Pistachio Covered Chocolate: Indulge in the irresistible charm of pistachios adorned with our finest chocolate, providing a delightful blend of creaminess and nutty undertones.
At Chocolics Chocolates, we take pride in curating exquisite gifts that are perfect for all occasions. Our Coated Enrobed Nuts Chocolate Gifts embody the pinnacle of elegance, making them an ideal choice for discerning chocolate enthusiasts and those seeking premium gifting options. We create gifts for birthdays, anniversary, baby shower/announcements, weddings, corporate gifts and many more.
Each chocolate is meticulously handcrafted by our expert chocolatiers, ensuring unrivaled quality and flavor. Packaged in elegant and sophisticated boxes, our chocolate gifts are ready to impress and delight even the most discerning recipients.
Experience the epitome of indulgence with Chocolics Chocolates' Coated Enrobed Nuts Chocolate Gifts. Treat yourself or surprise your loved ones with these exquisite creations, and let the blissful symphony of flavors transport you to a realm of pure chocolate ecstasy.
Indulge in the allure of our Coated Enrobed Nuts Chocolate Gifts, where each bite unravels a tantalizing blend of flavors and textures. Our dedication to using only the finest ingredients ensures that every piece of chocolate is a masterpiece of taste and quality.
Whether you're celebrating a special occasion, expressing gratitude, or simply pampering yourself, our chocolate gifts are a perfect choice. They make for an impressive centerpiece at events, a thoughtful present for loved ones, or a well-deserved self-indulgence.
At Chocolics Chocolates, we understand the importance of presentation. Our Coated Enrobed Nuts Chocolate Gifts come beautifully packaged, exuding elegance and sophistication. The luxurious boxes, adorned with intricate designs, add an extra touch of opulence to your gifting experience.
Beyond their exquisite taste and appearance, our chocolates are a testament to our commitment to sustainability. We source our ingredients responsibly, ensuring that they are ethically produced and environmentally friendly. With Chocolics Chocolates, you can savor each moment while knowing that you're making a conscious choice.
When you choose our Coated Enrobed Nuts Chocolate Gifts, you're not just selecting a delectable treat; you're embracing a journey of flavors. The combination of carefully selected nuts and premium chocolate creates a symphony of taste sensations that will leave you craving more.
Experience the velvety smoothness of our chocolate as it melts on your tongue, releasing the distinct flavors of each nut variety. The contrasting textures of the crisp nuts and the creamy chocolate offer a delightful interplay that is simply irresistible.
Whether you prefer the classic combination of hazelnuts and chocolate, the tangy burst of cranberries, or the delicate sweetness of almonds, our Coated Enrobed Nuts Chocolate Gifts have something to satisfy every palate.
We take pride in the meticulous craftsmanship that goes into each chocolate creation. Our chocolatiers blend artistry and passion to create chocolates that are not just treats but works of edible art. The dedication and attention to detail that we pour into every step of the chocolate-making process are evident in the exceptional taste and presentation of our products.
So, immerse yourself in the world of Chocolics Chocolates and discover the indulgence that awaits you. Let our Coated Enrobed Nuts Chocolate Gifts elevate your chocolate experience to new heights of luxury. With every bite, you'll understand why Chocolics Chocolates is synonymous with exquisite taste and uncompromising quality.
Treat yourself or someone special to the ultimate chocolate indulgence. Order our Coated Enrobed Nuts Chocolate Gifts today and embark on a journey of flavors that will captivate your senses and leave you craving for more.
Varieties in Coated Nut Chocolates with more flavours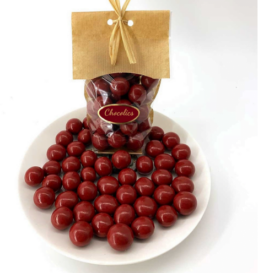 Pista covered in chocolate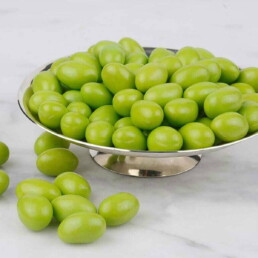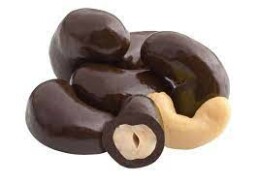 Almond in Dark/Milk chocolate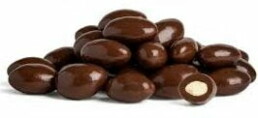 Hazelnut in Dark/Milk chocolate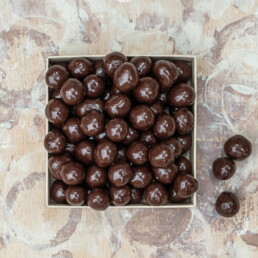 Blackcurrent in white chocolate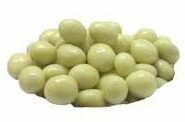 Roasted coffee bean in milk chocolate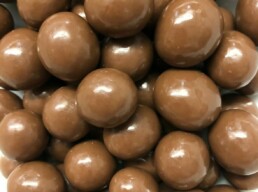 Raising coated in milk chocolate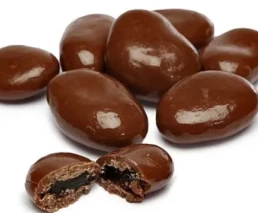 Butterscotch in Mango/milk chocolate